Down with legionella
Legionella are bacteria that we most certainly do not want to enter our bodies. But because they spread in water-bearing pipes, it is a good idea for us to keep an eye on their habitat.
Did you know that millions of tiny little creatures are bouncing around in your pipes, deeply hidden and invisible to the human eye? We are talking here about legionella and other bacteria that occur both in nature and in our drinking water systems. Stagnant water and temperatures between 25 and 50°C are the ideal conditions for them to reproduce unnoticed.
No fear of legionella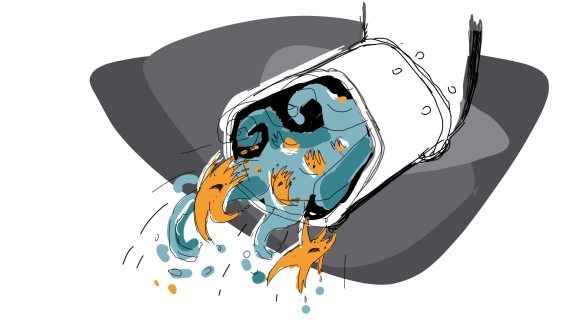 Legionella are the kind of bacteria that we most certainly do not want to enter the human organism. When showering, for example, they are flushed out of the shower head in tiny water droplets and can be inhaled. Some of them are transported unnoticed into our lungs and deposited there via the respiratory tract. For healthy people without any kind of immune deficiency, legionella cannot do much harm. But the situation is different for people with a weakened immune system.
To avoid getting sick in the first place, it is important to completely replace the water in the pipes after a long period of downtime – for example, in a holiday home that has been unoccupied for months. "Water in our drinking water pipes must be replaced after 72 hours at the latest, otherwise the pipes quickly become a paradise for germs and bacteria such as legionella due to stagnant water and temperatures between 25 and 45°C," reports Beat Aebi, Product Manager Piping Systems International at Geberit.
Beat's tips for avoiding legionella in drinking water
Legionella die at water temperatures above 50°C. With this in mind, keep an eye on the inlet flow temperature of the storage water heater and keep it above 55°C at all times.
After longer periods of absence, I recommend flushing the hot water and cold water pipes in your (holiday) home for around two minutes. This notably includes the taps and shower heads. Avoid the bathroom during this time.
Legionella can also settle directly at the point of use. With this in mind, be sure to regularly remove limescale from shower heads and tap aerators – the nozzles on the taps in the kitchen and bathroom. You can simply unscrew both, soak them in any standard descaling agent and reattach them after cleaning.
Taps are potential sites for the accumulation of legionella and other bacteria. With this in mind, arrange for (the majority of) unused taps – such as those in the laundry room – to be removed. Outside water taps should be closed over the winter. Caretakers or plumbers can ensure that there is no more water in the relevant pipe sections.
Homeowners should have the domestic water filter regularly checked by the plumber and replaced if necessary. In an apartment building, the caretaker is usually responsible for any kind of professional replacement.
In the event of an acute legionella problem, it may be advisable to use a temporary sanitary flush, such as the Geberit Rapid sanitary flush. This can be attached to the relevant pipe section to get your drinking water system back up to scratch without major conversion work or costs.
You can rest assured that, by following these tips, legionella will have a hard time in your drinking water piping. We appreciate that you will probably now be considering whether a sanitary flush makes sense for you. If this sounds like you, don't hesitate to contact your plumber, who will be happy to advise you further.
Which bathroom is the right one for you?