Geberit WC solutions Timeless design and extremely easy to clean
Six good reasons for a WC solution from Geberit
Take a look for yourself at how clean, user-friendly and visually appealing the Geberit WC solutions are, not to mention the outstanding comfort they bring.
Please select an info point in the picture
Rimless solutions for added cleanliness Geberit Rimfree® WCs
In addition to design, hygiene and ease of cleaning are also decisive factors when choosing WC ceramic appliances. The flush rim is a nuisance because germs, dirt and deposits can accumulate there. The rimless WCs from Geberit are designed entirely without a flush rim. There are therefore no hidden, hard-to-reach places where deposits can build up and odours can develop.
Because rimless WCs are much easier to clean, they are the first choice when it comes to WC hygiene. Geberit Rimfree® WC ceramic appliances feature a patented flush technology that was developed by Geberit. A flush guide ensures a hygienically perfect flush every time without using much water.
Conventional toilets have hard-to-reach areas where deposits can build up.
The Geberit Rimfree® technology dispenses with annoying cleaning and the need to use expensive special cleaning agents.
A specially developed flush guide ensures a targeted and hygienically perfect flush every time.
Which Rimfree® WC matches your style? Something for everyone
Round, rectangular or narrow. The portfolio not only includes different shapes to match the existing ceramic appliances, but also different price segments as well. We have the right solution for everyone.
TurboFlush flush technology Leaves nothing behind
We have gone one step further and developed the TurboFlush flush technology to ensure even greater hygiene and less cleaning. The asymmetrical geometry of the ceramic appliance and lateral water inlet result in a unique flushing-out performance. The technology is much more effective than a normal flush, not to mention much quieter and more efficient.
Geberit ONE WC With efficient TurboFlush flush technology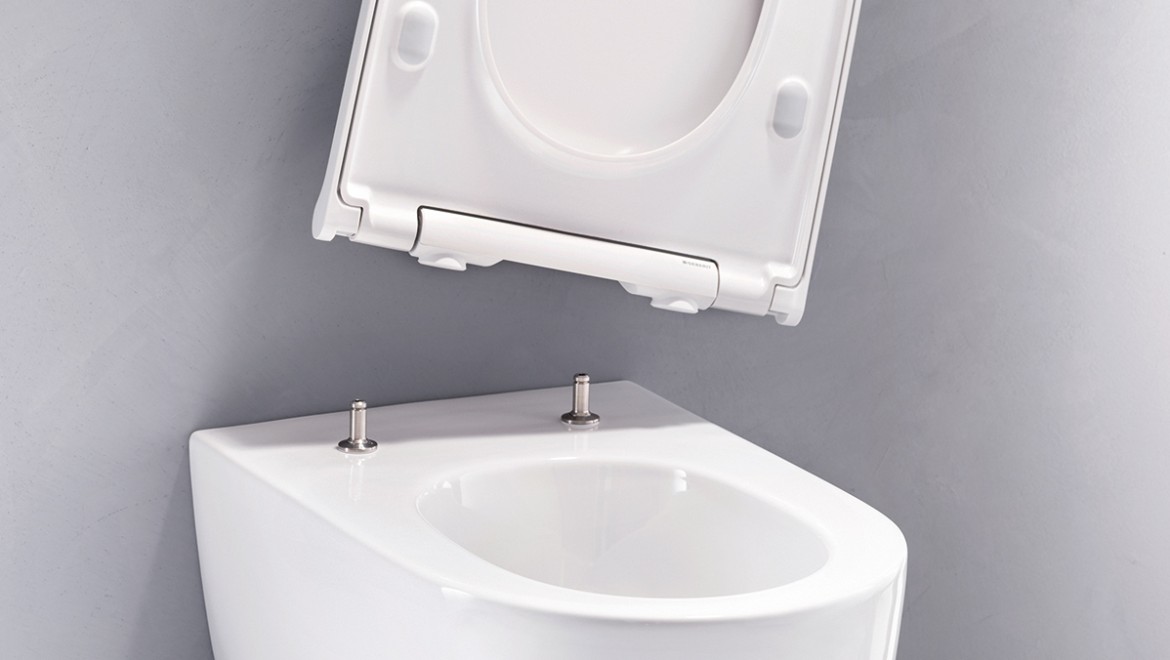 The wall-hung Geberit ONE WC is both elegant and perfectly proportioned. Thanks to its timeless design, it can be integrated in all kinds of bathrooms. The simple removal of the WC lid makes the ceramic appliance even easier to clean. The QuickRelease system is also available on other WC ceramic appliances.
Geberit AquaClean shower toilet Thorough cleaning with water
Water is essential for everyday personal hygiene and cleans gently yet thoroughly. As a result, even more people are becoming fans of natural, gentle cleaning on the toilet using water instead of toilet paper. This perfect combination of attractive product design and everyday appliance with added comfort gives the bathroom a special touch.
Geberit Monolith Added Scope in the bathroom
When Geberit Monolith was launched on the market in 2010, it bridged the gap between conventional exposed cisterns and concealed cisterns hidden behind the wall. The elegant sanitary module with integrated cistern was celebrated as a new, versatile design element in the bathroom. Since the very beginning, the Geberit Monolith has been compatible with virtually all standard WC ceramic appliances and Geberit AquaClean shower toilets. Installation usually requires no structural modifications, which is a significant advantage both in new buildings and as part of renovations. The front cladding is made of safety glass, is available in different colours and materials, and comes in two heights. The Geberit Monolith Plus also features additional functions for even more comfort in the bathroom, including an integrated LED light, odour extraction unit and an easy-to-clean control panel.